Tryon
Early Census Records
1790 Census, Lincoln County, NC

The 1790 Census shows two groups of Ferguson by Company. George O Ferguson2 indentifies these as the Fergusons of Crowder's Creek and Long Creek.

| Head | Company | Detail | Total | Notes | Page2 |
| --- | --- | --- | --- | --- | --- |
| Robt Ferguson | 7th | 3-3-4 | 10 | Grant: 200 Acres, 1772, Crowder's Ceek | 82 |
| Andw Ferguson | 7th | 3-3-2 | 8 | Grant: 200 Acres, 1783, Crowder's Ceek | 82 |
| Jno Ferguson | 7th | 2-3-2 | 7 | | |
| Robt Ferguson | 12th | 3-1-2 | 6 | Grant: 70 Acres, 1779, Long Creek | 82 |
| Jas Ferguson | 12th | 1-1-1 | 3 | Tryon County Regiment 1777-1781 | 25 |
| Robt Ferguson | 12th | 1-0-0 | 1 | | |

1800 Census

The 1800 Census shows two groups of Ferguson by page in the census records. These are interpreted here as the Fergusons of Crowder's Creek and Long Creek. In the case of Long Creek the grouping is consistent with the Robert Ferguson whose will written in 1805 mentions sons James, Moses, John and Robert

| Head | Page | Detail | Total | Notes |
| --- | --- | --- | --- | --- |
| Sarah Ferguson | 838 | 0-1-1-0-0 / 0-0-0-0-1 | 3 | Widow of Robert, Crowder's Creek |
| Andw Ferguson | 838 | 0-0-1-0-0 / 0-0-0-0-1 | 4 | |
| Thos Ferguson | 838 | 2-1-0-1-0 / 2-1-0-1-0 | 9 | |
| Jms Ferguson | 838 | 0-0-0-1-0 / 0-0-0-1-0 | 2 | |
| Robert Fargason | 895 | 0-0-0-1-1 / 0-0-0-0-1 | 3 | Long Creek |
| James Fargason | 895 | 3-0-0-1-0 / 1-0-0-1-0 | 6 | |
| Moses Fargason | 895 | 4-1-0-1-1 / 1-0-0-1-0 | 9 | |
| John Fargason | 895 | 0-0-0-1-0 / 3-0-0-1-0 | 5 | |
| Robert Forguson | 899 | 2-0-1-1-0 / 1-0-0-0-1 | 6 | |
"Colonel" Robert and Andrew - Haplogroup I-Y4752
The relationship of Robert Ferguson whose will is dated 29 Oct 1794 to Andrew Ferguson who died d. Jul. 25, 1810, age 86 is unknown. George Oliver Ferguson2 says Robert Ferguson is aka Colonel Ferguson and Andrew is his son. Jane Sinclair 1.i writes that Colonel Ferguson's son Andrew moved to St. Louis after the War of 1812 and was alive as late as 1860. He is said by George Oliver Ferguson2 to be the Andrew mentioned in Robert's will and that Andrew (1724-1810) is a son by a prior marriage.

Jane Sinclair1.i says the Colonel had three sons: John born in Pennyslvania, Thomas born in North Carolina and Andrew born in North Carolina. She also says Thomas married Mary Farris (Faries3) tying into the pedigree submitted for kits 182879 and 185584 if one assumes Colonel Ferguson and Robert Ferguson are one and the same person. Said Thomas died Mar. 19, 1866, age 85 years and 8 months [ Find A Grave Memorial# 93404101 ]; his calculated year of birth is then 1780. The will of Robert Ferguson states that his youngest sons are Thomas and Andrew.

George Ferguson1.ii, says his grandfather came to America from Scotland in 1750. He lists his grandfather's sons from oldest to youngest as John, James, William, Andrew, George. Apart from a Thomas and a Robert who may have been unknown to George, these names match the sons named in the will of Andrew Ferguson written 17 Feb 1808. George's grandfather appears to be the Andrew Ferguson who died 25 Jul 1810. He also discusses his "Old Uncle Johnny Ferguson" whom he says married Polly McWilliams tying into the pedigree submitted for kit 179964.

The two trees below are consistent with the narratives by Jane Sinclair1.i and George Ferguson1.ii who would have had some first hand information on the family. That Thomas Ferguson, Esquire is shown as a son of Andrew and Mary is consistent with Andrew's will wherein he appoints his son Thomas executor and the will is signed by Thomas Ferguson Esquire. George O Ferguson states that Thomas is the oldest son of Andrew and was born in 18602.i. He also labels Thomas Ferguson (1798-1865) as "Old Uncle Tommy" whuich suggests that part of the narrative by George Ferguson1 as published circa 1947 was inadvertently left out by the editors.

According to George Ferguson1.v Andrew's son James married Mary McArthur whereas George Oliver Ferguson2.ii says it was Thomas Esquire's son James (1806-1853) who married Mary McArthur. George may have been confused if his cousin James was known to him as Uncle just as his cousin Thomas was known as "Old Uncle Tommy".

It is clear that Robert and Andrew are related but the DNA cannot say how. Every kit in the two trees is in Haplogroup I-Y4752>YP6208 so no inconsistency there. BigY results to date indicate that all are BY19911+, Y36143+, BY19910+, Y36769+, BY19909+; it is suggested that these 5 SNP be tested by those participants who cannot afford a BigY test.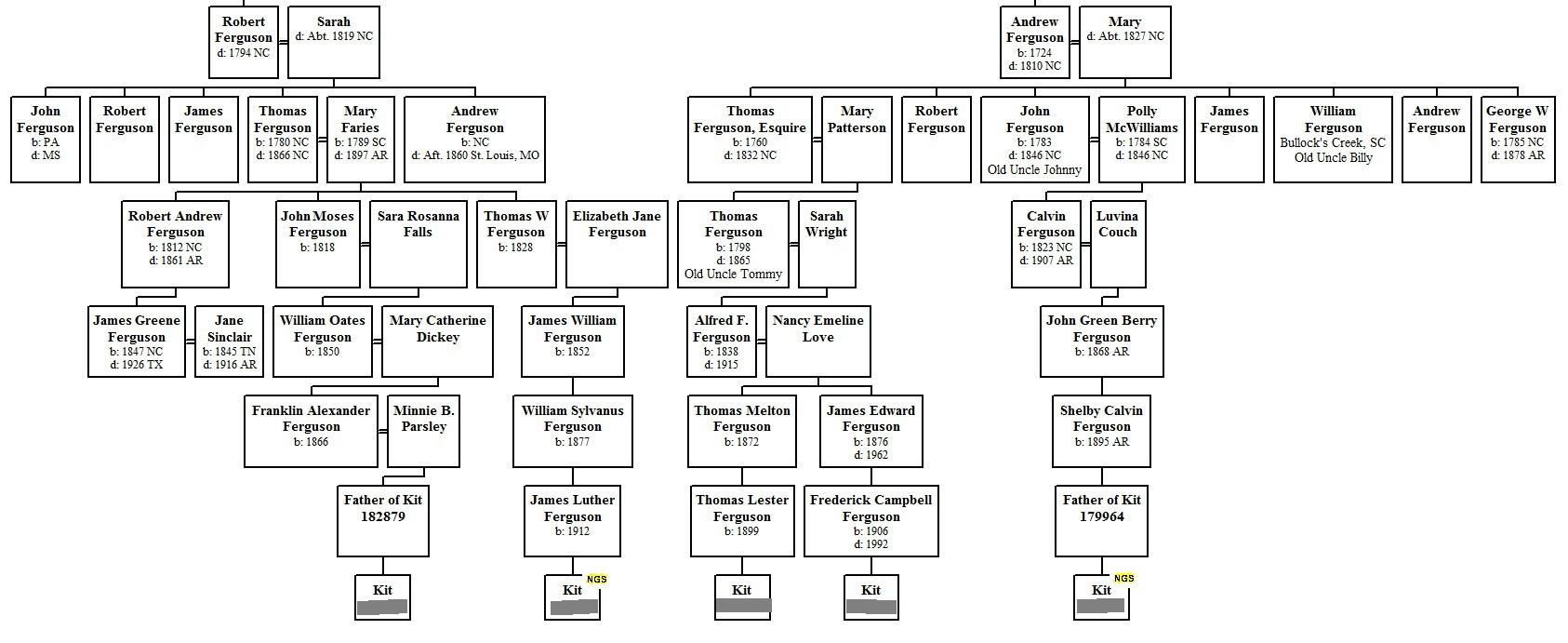 Robert "Robin" Ferguson - Haplogroup I-Y4752
The father of Robert (aka Robert Robin) Ferguson is unknown. Comparison with the trees above he could be the son of Robert or Andrew as they both have a son named Robert. Given that Robin's descendants have DYS487=14 he appears to be a descendant of Andrew. In the book by Jim G (James Garland) Ferguson4.iii he is said to be a grandson of Andrew and Mary by their son William but no evidence is offered other than reference to a family tree by one Homer Ferguson4.iv. Said William Ferguson was known to George Ferguson1.ii as "Old Uncle Billy" and George's list of Uncle Billy's children does not include a Robert or a Robin. Further Old Uncle Billy is said to be a younger brother of "Old Uncle Jonny" making him born too late to be the father of Robert Robin Ferguson.
There is a William Ferguson6 with a State Grant of 200 acres on a branch of Turkey Creek registered August 23, 1774. This would indicate that he had received 100 acres for himself and 50 acres each for two dependents over age 12. Those dependents would have been born prior to about 1762 and William himself then some time prior to about 1742; in 1800 he would have been older than about 68 thus he is not the William Ferguson in the 1880 census of York, SC for that William was aged 26 thru 44.
In the biographies5 of his grandsons Garland Servier Ferguson and William Burder Ferguson, Robin is said to have emigrated from Tyrone County (Ulster) to South Carolina as a young man. Jim G Ferguson4.v says Robin was born in South Carolina which fits neither the above statement or place of birth deduced from census records4.i.c-e
The pedigrees of each kit in the tree below are based on research by Geraldine Littleton formerly of the Searcy County Library who was working to document and advance the genealogy of the library's founder Jim G Ferguson aka James Garland Ferguson, Sr [ Find A Grave Memorial# 45490297 ].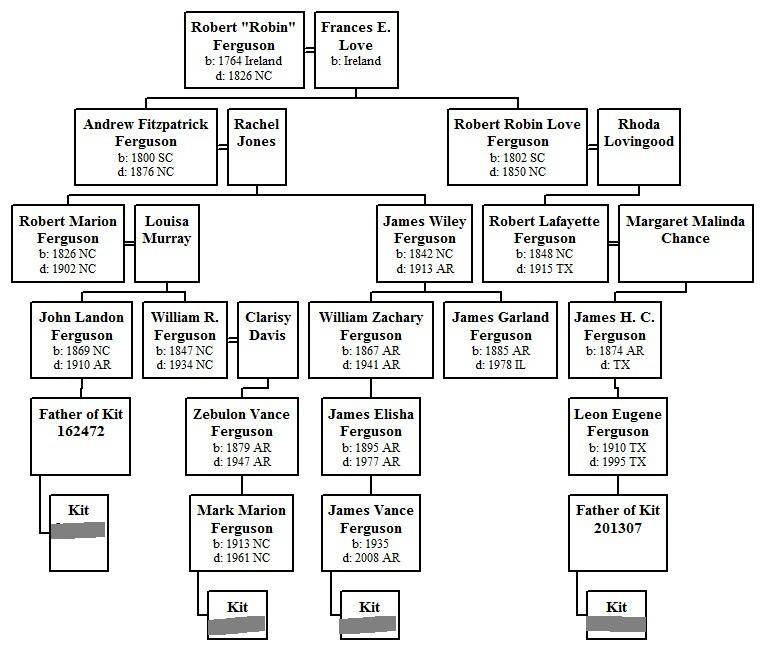 Haplotypes
The DNA of the these Ferguson falls within Branch I of I2 > M223 > Y4752 Isles/Sc - 15. The off modal marker DYS487=13 is shared by the two kits known to descend from Robert of Crowder's Creek. The off modal marker DYS534=19 is shared by two kits but it looks to be the result of two independent mutations than indication of a common ancestor within the trees. All involved are advised to upgrade to 111 markers or to an NGS test such as BigY. Kits 143992 and 206789 share CDY=31-35, DYS442=13 and DYS444=13 which triangulates back to their common ancestor Alfred F Ferguson (1838-1915).